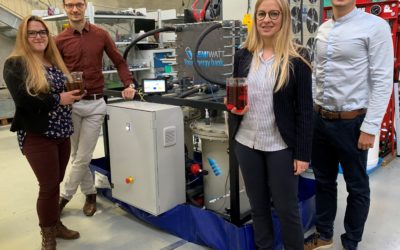 After successfully completing a demonstration system with commercially available chemicals, the company has taken a further step in developing its proprietary chemistry. The project was supported by its historical partner laboratory MaCSE and one of KEMIWATT's...
lire plus
    EVOLEN awards the 2020 Jury Prize to KEMIWATT for its flow battery based on organic and recyclable molecules. https://www.evolen.org/association/prix.php About EVOLEN: Producing energy while respecting the environment and safety is a major challenge. The 250...
lire plus
In the presence of the President of the University Rennes 1, Mr. David Alis and the Vice President of the Brittany Region in charge of Energy Transition, Mr. André Crocq, KEMIWATT was delighted to inaugurate its organic RedOx flow battery. Within the SERU project,...
lire plus