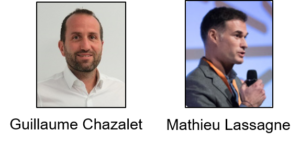 The knowledge and experience, accumulated since the creation of the company and several generations of prototypes developed, enable KEMIWATT to move towards the installation phase of demonstrators and the preparation of the commercialization stage for stationary energy storage applications.
To achieve its objectives, KEMIWATT will rely on the Global Innovation Competition obtained in 2018 and its achievements that have all led to world premieres for a redox battery with biodegradable and recyclable electrolytes.
With a wealth of experience in business development and profit center management, Guillaume Chazalet will aim to promote storage systems to key players in the Microgrid markets and the integration of renewable sources, while guaranteeing the first deliveries of demonstrators on customer sites.
Mathieu Lassagne, as an independent member of the Strategic Committee, will bring his knowledge and advice on the renewable energy sector, as well as on KEMIWATT's development strategy.
Guillaume Chazalet, who holds a Master's degree in Business Development (EM Grenoble) started his career in 2000 at Gedys VRC as CRM Product Manager, then in 2002, he joined Groupe Hélice as Branch Manager. In 2006, he joined EURIWARE as Key Account Manager then Areva Energy Storage in 2013, during which he developed the portfolio activities for fuel cell, electrolyzer and redox battery. In 2017 he joined KEMIWATT as Head of Business Development.
Mathieu Lassagne, began his career in 2000 at EDF where he contributed to the establishment of new market mechanisms following the liberalization of the sector. In 2006 he joined Gaz de France in a role of strategic and financial planning, then analysis of investments in the sector of E & P and distribution. From 2010 to 2015, he worked at Engie's Mergers and Acquisitions Department on significant acquisitions and disposals (International Power, GrtGaz, E & P International …). Since 2015, Mathieu has been Deputy Chief Executive Officer of Solairedirect, in charge of corporate, asset development and asset management.
Since its creation in 2014, KEMIWATT has been supported in its development by Demeter Ventures, GO CAPITAL, Pierre-Yves Divet, and SATT Ouest Valorisation.